Pole-Wrap We use only premium hardwoods for the veneer on our flexible panel products that take stain beautifully. Or, bring out the rich natural wood grain with just a couple coats of polyurethane. The design simulates that of a classic fluted column. The half inch wide vertical panels are bonded to a high quality flexible backing that is extremely tear and water resistant.
Please note that Pole-Wrap is not a structured split column. It is a pliable sheet of decorative wood that is applied over existing structural support columns. Our products are pre-sanded and ready for finishing. Use an oil, alcohol or lacquer based primer for our MDF models and finish with any paint of your choice to match decor.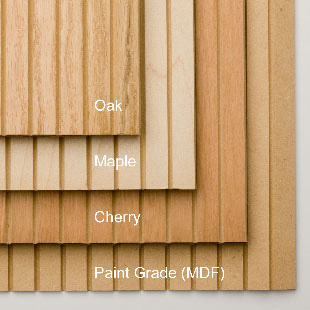 Our column covers are available in 8 ft. or 4 ft. lengths and easily cut to fit your exact column size. Choose 12 in. width size for a standard 3 in. or 3½ in. diameter pole. Use 16 in. width size for 4 in. diameter poles. Available in Red Oak, Light Maple, Cherry and also MDF that is best for paint finishing.
A circumference measurement around the column is important for determining column diameter and selection of the correct model size (use a tape measure or string). See
Pole-Wrap Sizing Chart
for diameter conversion and other helpful reference charts below. A similar chart is found on product packaging.
Application for Pole-Wrap Models

Pole-Wrap Size
Use for this Column Diameter
Type of Wood
Model #
12 x 96 in.
3 or 3½ in.
Cherry
Maple
Oak
MDF
84128
83128
85128
87128
16 x 96 in.
4 in.
Cherry
Maple
Oak
MDF
84168
83168
85168
87168
48 x 96 in.
All
Cherry
Maple
Oak
MDF
84048
83048
85048
87048
12 x 48 in.
3 or 3½ in.
Oak
MDF
85EX124
87EX124
16 x 48 in.
4 in.
Oak
MDF
85EX164
87EX164
48 x 48 in.
All
Oak
MDF
85EX484
87EX484